---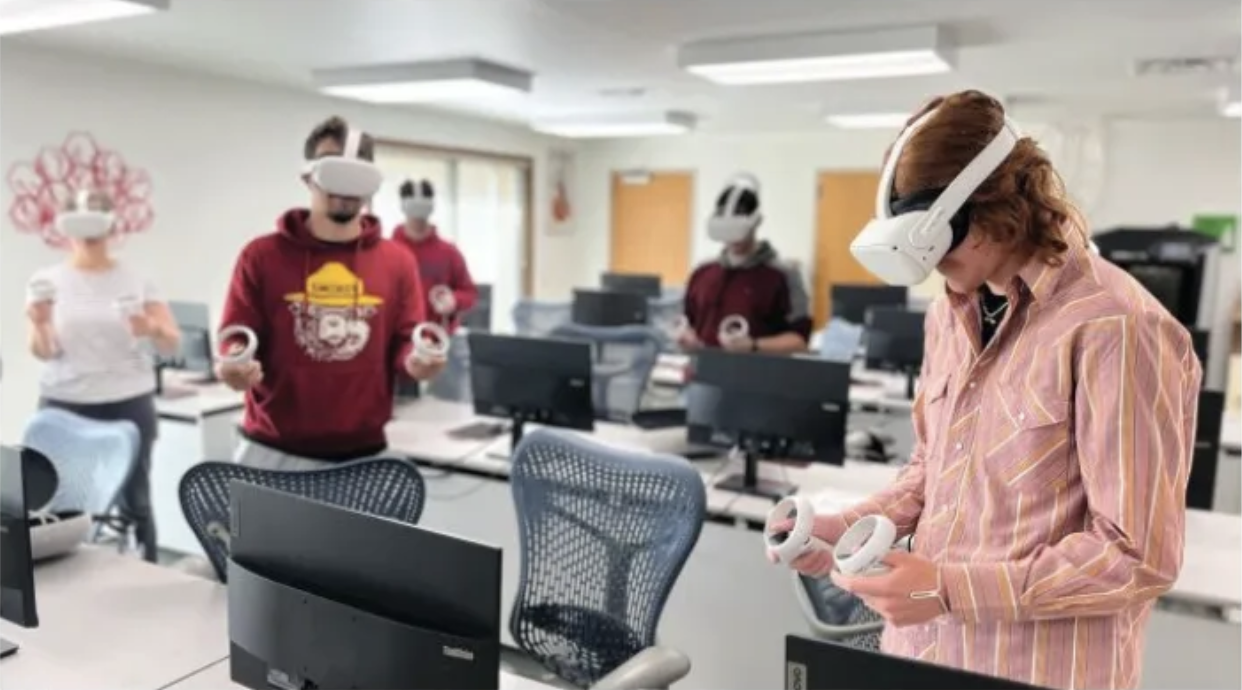 In Missouri, the "silicon prairie", where Kansas City & St. Louis are ranked by the bookings institution as rising star metros for tech jobs, Virtual Reality training is gaining ground.
Fourteen of the 16 community colleges and tech schools Missouri One Start partners with provide VR instruction. Training modules include career exploration for students and specific workforce training for employees. The experience for both cohorts is more than a presentation or tour. VR technology gets participants involved with tasks and skills immediately.
"Our initial thoughts regarding VR training came during the pandemic, when being safe meant keeping people out of classrooms and shared spaces" said Kristie Davis, Director at Missouri One Start. "But we quickly realized that this technology allows workers to safely experience or develop skills for tasks that can be dangerous, and preliminary exposure increases their chance of success once the training becomes hands-on. It can also increase safety and control material costs. It's clear to see why it's popular"
But trainee safety and cost savings are only a part of the benefits of VR. Workers trained at Mineral Area College in Park Hills have given this new way of learning an enthusiastic thumb's up. "When one of our OSHA trainers found out the headsets were available for his class, he was thrilled", said Michele Shore, Director of Workforce Development. "When he passed out the headsets and the trainees started performing tasks in the modules, the level of enthusiasm was unbelievable. You could see the classroom come to life. They were laughing; they were having fun. I don't think any of my OSHA trainers will ever give the class without it again"
But Shore also admits that at first she was hesitant about how the headsets would be received and wondered if incumbent workers would be willing to adopt this new technology. "I was taken aback by how they reacted," she recalls. "These manufacturing workers had such a positive reaction. They all said I'd love to have more of this!"
In terms of building career pathways with youth and young adults, it's hard to beat industry and skills exposure that comes via VR. With so many Gen Z already living in a virtual world, the headsets are second nature. "It allows for sort of natural competition. Students begin the trial, but they want to 'win.' They want to make it all the way through the training." said Shore.
Shelle Jacobs, Deputy Director of Missouri One Start, points out that while recent experiences point to an almost fun-and-games mentality of completing the modules, the purpose of the headsets is not to complete all training virtually but to supplement or prepare trainees for full hands-on instruction. "Trainers and instructors are provided a dashboard, so they can see how students are doing in real time. And if someone has failed repeatedly, the headset will actually shut down so the trainer can focus on that worker,, review basics, or provide help"
For manufacturing or general business, this dashboard can also signal a skill-fit issue. VR training gets trainees into tasks right away, inside the classroom, which in turn brings excellence or failure to light faster. Being able to ascertain where workers fail in terms of capability, and advance or reassign them more quickly is good for retention.
For more information, visit https://missourionestart.com
About Missouri One Start:
Missouri One Start is a Division within the Department of Economic Development. Training programs are administered regionally by local education agencies (LEAs). In addition to meeting certain eligibility criteria, companies must be making a capital investment five times greater than the amount of training funds they receive.